Castiglion Fiorentino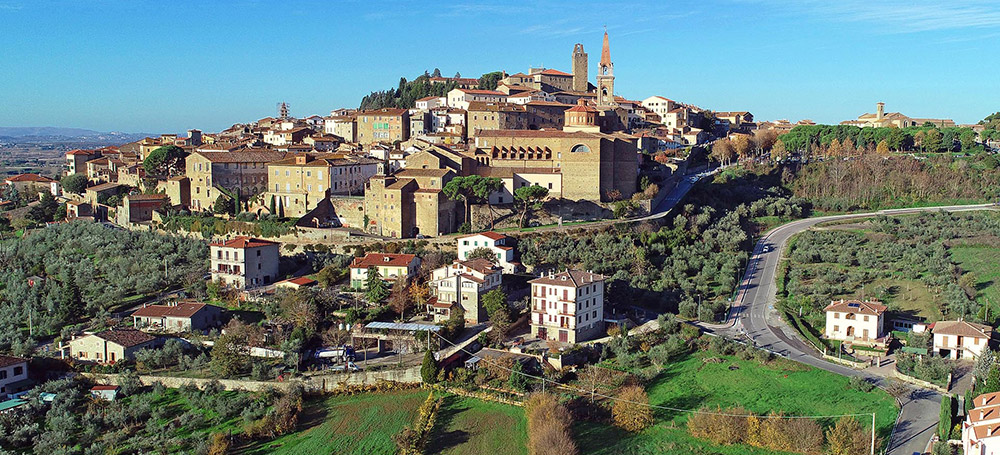 The area of Castiglion Fiorentino has been inhabited since prehistoric times, as evidenced by the discovery of objects dating back to the 1150 BC. The inhabited core developed in a strategic position between the valley of the Clanis River and Val di Chio in Etruscan times, as is witnessed by the numerous artefacts found in the "Brolio Deposit" and by the exceptional discoveries in the Cassero area.
During the Roman Empire, Valdichiana already was a swamp, and by the middle Ages, it had become an unhealthy swampland.
The darkness of time hides the history of the town up to the X Century. Once it became a free municipality, the town has been contended for many years between Arezzo, Florence and Perugia; in 1384, after many twists and turns, it was definitively subdued to the Florentine government. From the middle 1700s on, thanks to the Lorena Grand Dukes, Valdichiana was reclaimed definitively, and for Castiglion Fiorentino began a period of remarkable economic and demographic growth.
A meeting place between near cultures, it preserves a remarkable artistic heritage: in its rich municipal art gallery are preserved exquisite jewellery pieces and paintings of great artists. The Museum System of Castiglion Fiorentino consists of the Civic Museum, the underground archaeological path, a medieval section, the halls of the Napoleonic age medals and the Pieve di San Giuliano museum.
In the centre of Castiglion Fiorentino there is the Town Hall Square, with its airy Loggiato Vasariano and the stark Town Hall. Next to the Civic Tower, a flight leads to the most ancient part of the Cassero square, which presents a wonderful landscape on Valdichiana, characterized by the towered castle of Montecchio Vesponi.
Within the town walls, many churches mark with their styles different periods of history: an example is the Romanesque Gothic Chiesa di San Francesco, rich of 1300s frescos, with its wonderful 1600s cloister; the baroque Chiesa del Gesù and the neoclassical Collegiata di San Giuliano. At a short distance from the town, there are also the Chiesa della Consolazione, a wonderful Renaissance masterpiece, and the Pieve di Retina, of early Christian origin.
---